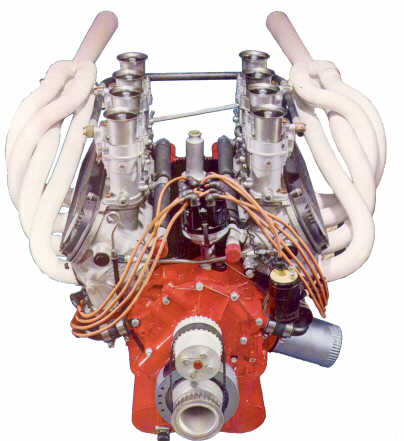 "Actually, we began our inquest with extensive rework of the existing 271 hp heads.", said Dan Gurney holding back a smile.

"At the peak of our testing with the 271 hp cast iron heads on a 325-inch block, we were pulling as much as 448 hp on gasoline. It was about this time we figured a few improvements along the lines of a new head design might give us even more power, so we got after it."
The new heads, cast of aluminum alloy by Alcoa, did evolve. The intake ports were a short shot, leading directly from the carburetors and aimed straight at the combustion chamber. No intake manifold is used. The Webers bolt directly to the cylinder heads. Steel valve seats were used on the 2-1/32" intakes, and bronze on the 1-5/8" exhaust. Normal 45 degree seat angles were used. Rockers are shaft mounted with removable stands. Three different heads designs were developed, including one to fit under the stock hood of a Mustang.